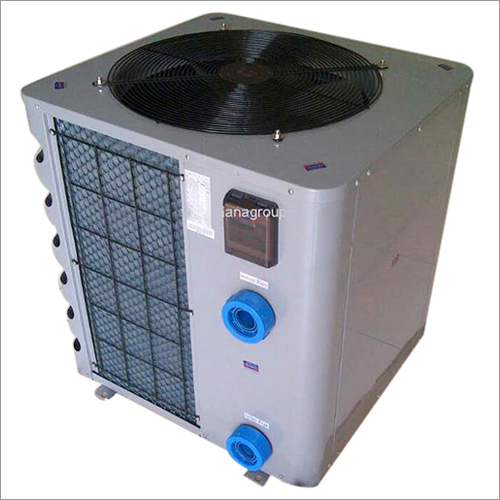 Product Description
We are a globally admired manufacturer and exporter of the world's best quality Swimming Pool Heat Pump, which is very much efficient when shifting heat from the air to the swimming pool water. This type of pump is highly utilized and appreciated amongst customers as compared to an electrical heater. It is made up of high grade fiber fabricated hosing, excellent speed fan, power cord and so on. Designed for underground pool, spa, domestic hot water and various applications require continuous water temperature maintaining. We offer the Swimming Pool Heat Pump can be availed at moderate prices from us.
Every summer, most of us have to deal with hot water coming from our cold tap. DANA Chillers offer you a cold water management system in your home at an affordable price. DANA Chiller is a fully automatic circulating water chilling system that can cool up to a 3000 Gallon
water tank to a (user adjustable) temperature. Once the set point temperature is achieved, the DANA Chiller unit automatically switches off.
KEY FEATURES:
Produce over 200 Gallon per hour of cold water
Be sited in the garden or roof
Be installed by a plumber and an electrician to an existing water tank
No need for a specialist refrigeration engineer
Operates like a simple domestic appliance
Be installed with no special electrical requirements
Maintenance-free * USA design
-1 year manufacturers' on-site warranty & 5 years warranty on compressor.
Terms & Condition Specified in Warranty Card
Selection criteria for domestic water chillers

Water tanks upto 700 glns

2 Ton (DC-2000)

Water tanks 700 glns-1000 glns

3 Ton (DC-2000)

Water tanks 1000 glns-1500

5 Ton (DC-2000)
Contact Us
Suite No 405-406,B Block, Centurion Star Bldg., Opp Deira City Center, Dubai, Dubai, 40743, United Arab Emirates
Phone :971-4-2217273